Big Lister
Prefrences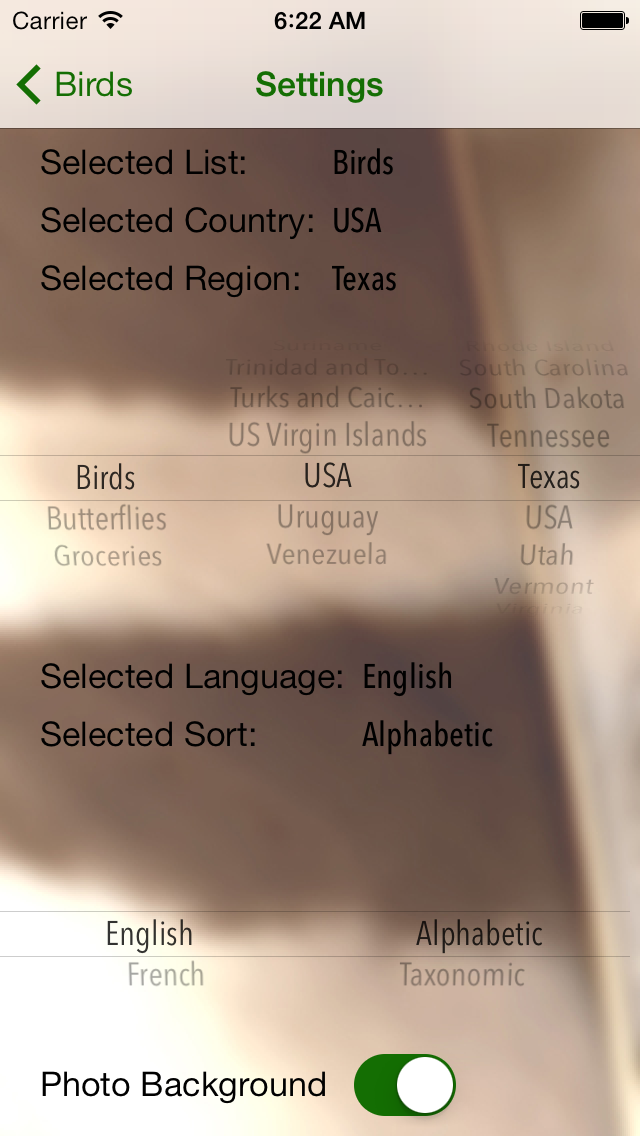 Preferences allow you to change the data being displayed. There are three list you can choose from Birds, Butterflies and Groceries. You can switch between them as you wish and record Butterflies and Birds for the same trip on seperate lists. Currently Butterflies only covers North America. So if you choose Butterflies you will not be able to select a country or state. For birds you can select from any of the 52 nations to narrow the number of birds displayed to that particular region. For the USA you can further reduce the possible birds to the state that you are interested in.
Big Lister can display the data in two languages, English and French. Big Lister changes the language automatically according to the language preference set for the device. However you can set a different language preference here if you so desire. Once you choose to set the language preference with Big Lister, Big Lister will always use the internally set language over the device set language.
The sorting preference allows you to change the order the data is displayed. Birds, Butterflies and Groceries can all be sorted alphabetically. Birds and Butterflies can also be sorted by the family order that they traditionally are shown in. Groceries can be sorted by department/section to lump items that normally occur in one area of the store together so shopping becomes easier.
The background photos can be turned off in order to make text more readable if you so desire. Back to the Tech Support page>>